It's that time of the year again, the time where I sit down and reflect on the year and what I've learnt from it. Pop the kettle on and pull up a seat, it's been a busy year. Where to start…?

January
I woke up one day and decided to get a tattoo. What did I want to get? A Phoenix. Why? Well, I came up with a quote whilst talking to Sebastian in a pub in Shepherds Bush in 2014. We were heart-broken and drowning our sorrows that night. We definitely came up with quite a few quotes in that pub…
Anyway, this one was about the after-effect of a relationship/a break-down/a life-changing incident, and the impact it'll have on you.
"We are like snakes. Every couple or so years, we lose ourselves and shed our skins to become new people." – Abigail Gorman.
That quote has always stuck with me. I believe that there will always be moments in life where we will break down and lose ourselves. It's inconvenient, uncomfortable, and even frightening, but it comes with an important message; your emotional needs are telling you that they need to be listened to. The breakdown is your body telling you that you need to look at yourself… and change. It's not easy, but it's a cathartic experience that we all need to go through in order to achieve growth. So, I wanted to get a tattoo to commemorate that but I didn't want to get a snake, because… ew.
So, what else signifies growth? A Phoenix. Plus… I'm a Harry Potter fan. 😏
I was also with Natasha and Jarrad, two of my favourite Aussies! Jarrad and I have had two tattoos together, one individual and one matching. So I wondered if he wanted to make it a hat-trick, but he couldn't think of one on the spot, so it was just me.
I walked into the tattoo parlour and said I wanted a tiny Phoenix on my inner arm and I was told that they couldn't do it. It would have to be a big-assed one. Dammit. I had to think quick on my feet and came up with the word, 'Rise' instead because a Phoenix always rises from the ashes, no matter whatever happens. The more I thought about it, the more I realised it actually fitted in with my philosophy on life.
'I got 'Rise' because I feel like that word is significant, now more than ever in this current climate. I have seen Deaf people be oppressed several times.
I have seen women be told to shut up and move to the side far too many times for my liking.
I have seen the LGBTIQA community fight tirelessly for their rights.
Enough is enough.
But… despite all the obstacles and barriers we face, we still manage to rise up above against them. That's the beauty of being part of a community. When you see someone else in need, we rise up for them. When you feel like all is lost, remember you are not alone.
We will rise. In spite of the ache, we will rise up a thousand times again.'
At the end of January, Colin, Kaisa and Markuu graced us with their presence for Colin's birthday! It was lovely to have them over, and we can add Kaisa to the long list of people who have been locked inside our bathroom… oops. 😯
February
And it was off to Latvia I went to complete the second part of my Human Rights training with EUDY! It was good to see the group again, and it was interesting to see how much we had changed in the space of a few months; the way we thought about certain things, how we delivered our presentations and how we reflected on our weaknesses/strengths and made changes to work together. I'm proud of the group and hope to see more workshops being held in the future, and that more conversations will be had about various subjects – people need to be aware of their rights. Because how can we fight for our rights if we don't know what they are?
Back to England and it's another birthday, and this time it was Camilla's 'Alice in Wonderland" themed 30th! I absolutely loved all the effort that went into it!
As soon as the party was done, there was no rest for the wicked because I had to grab my bags and fly off to Budapest again! Why? Well, the European Student Union were holding a week-long 'Queer Feminism' study session at the European Youth Centre, and I was lucky enough to be a participant. The week focused on various aspects of feminism and encouraged us to explore it from all kinds of perspectives. We looked at why abuse happens, how it's enabled and the outcomes of it. Topics included; advocacy, gender mainstreaming, master suppression techniques, conflict resolutions, gender bias, intersectionality, power structures, misogyny, homophobia, transphobia, gender equality and colonial capitalism.
Halfway through the week, the Netherland's Human Rights Ambassador, H.E Kees van Baar, paid us a visit and spoke for an hour about the importance of human rights and how denying people their rights would have a significant impact on their lives. So, I decided to ask him what his definition of human rights was? Did he consider linguistic rights to be a human right? If so, why hadn't Nederlandse Gebarentaal (NGT – Dutch Sign Language) been recognised as an official language yet? Official recognition/passing an Act would lead to better accessibility in schools. Access to language is a basic human right, is it not?
His response, "I admit I don't know much about that, but I have every confidence that the United Nations Convention on the Rights of Person with Handicaps, which was ratified in 2015, would be a great help."
Just… no.
Firstly, it's Disabled, not Handicaps. Secondly, it was ratified in the Netherlands in 2016, not 2015. Thirdly… yes, the UNCRPD is a powerful and useful document that helps fight discrimination against people with disabilities. However, its main focus is inclusivity. Which means in education, all children should be in the same school and be treated equally. In theory, that's a lovely idea – for everyone to be treated the same, regardless of their disabilities. But in reality, this means that deaf children will be mainstreamed and be taught in a language that is not their own – therefore they will be linguistically deprived, which in turn will lead to isolation, frustration and increased risks of mental illnesses. Deaf people are a linguistic minority, so instead of trying to make them fit into a phonocentric world, allow them to be educated in their own language – sign language – and give them access by giving sign language legal recognition. Accessibility means more people in employment, which in turns improves the economy, better quality of life, higher socioeconomic status and a decreased number of people with mental illnesses…?
*ahem*
Anyway, it was an incredible week and I was blown away by some of the insights some people had and as a result of that, my perspectives on certain issues shifted. In order to improve society, we need to put our egos aside, open our minds and our hearts and work toward removing different forms of oppression. Do you believe in equality? Do you believe that everyone should be treated equally, regardless of their gender, sex or race? Do you believe that everyone should be able to live their life freely, without any fear of persecution? A life where you aren't constricted by heteronormativity? If you said yes to any of those questions, then my friend… you too are a queer feminist.
March
It's March and it can only mean one thing…
I am always blown away by the overwhelming sense of femininity bubbling inside the rooms every time I go. There were so many things going on at the event but a few stuck out for me. 'International activism', a panel with Li Maizi, a women's rights and LGBTQ+ advocate. Li Maizi, one of 'China's Feminist Five', was arrested for 'provoking trouble' after planning a multi-city protest aimed at bringing an end to sexual harassment on public transport. Hyeonseo Lee, who escaped from North Korea at 14 years old, Quhramaana Kakar – Founder and Director of Women for Peace and Participation and Gulalali Ismail, a Pashtun human rights activist from Pakistan and Chairperson of Aware Girls and the Seeds of Peace network. The conversations they had really stuck with me. Hyeonseo said that she still fears for her life because she is so vocal about the regime in North Korea, and given how vicious their dictator is about people who break the rules, imagine what it'd be like for defectors? So, she has to have security detail everywhere she goes. Quhramaana told us about how she received death threats daily when she was the Gender Advisor in Pakistan during the Taliban regime. When asked why they continue to do what they do, Gulalali had this to say:
"I'm a very unconventional voice in my country. A state where women's freedom is considered a very bad curse word. When your life is at threat.. it is very difficult when you're being threatened with acid attacks and mob attacks. Change is very difficult. We have to continue because we don't have an option. Silence is not an option. If we continue to be silent, it won't change. We've been facing this for decades and we can't let it continue for more decades to come. We know the cost will be dangerous but it's something we have to do."
This was only one event out of hundreds throughout the week. Events range from educational to sexual to comical to whatever you can think of, Women of the World has it all! I wish it was on every day. Make sure you go to the next one!
https://www.southbankcentre.co.uk/whats-on/festivals-series/women-of-the-world#events

A few days later, I was invited to the House of Lords for a reception dinner hosted by Snowdon in conjunction with DBE Tanni Grey-Thompson. She's one of British's greatest Paralympians, hailing from Wales. She is now a Crossbench Peer in the House of Lords – someone who is not tied to a political party and does not have to follow a political party's line, therefore are free to make an independent vote – and has been on the board of several disability charities and sports councils. It was inspiring to meet a politician who is genuinely passionate about inclusion, and I hope to see more politicians devote their time and focus on ensuring that people are included.
It was also British Sign Language week, and the highlights of the Paralympics would have deaf signers on it… LIVE, not pre-recorded.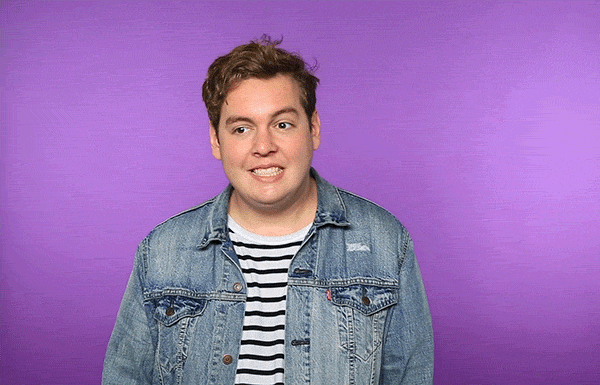 Apart from there being no subtitles in the first minute, I managed to get through the hour-long programme without any hitches. Nerve-wracking but also exhilarating! A big well done to the team! Proud of you all.
April
April came along and it was time to go to see Sam Smith at the O2! The One Show wanted to make a programme about how concerts can be more accessible for deaf people, so they interviewed us. We spoke about how accessibility should be a priority for organisers – whether it be a concert, stand-up show or event – instead of being an after-thought. I have seen plenty of changes been made so far, but there is still a way to go. Some people are still fighting for access to public entertainment. Take the case of three mothers who wanted to see a Little Mix show with their children, for an example. They were denied access to the whole show. They are currently fighting to change the system to make sure events are fully inclusive for everyone. Read below to find out more about their story.
It was also the BDA AGM in Manchester! We said our congratulations and goodbyes to the previous board for all the work they did the last three years and welcomed in the new board! The BDA also handed out awards to people for their dedicated support and loyalty to the Deaf community throughout the years.
May
When I lived in Australia, Loranc and I lived in an amazing apartment with some pretty cool Australians. Lacey was one of them, and now she has moved to London! I do love me some Aussies.
The UK Parliament organised an event with TerpTree to encourage individuals and campaigners to come together to debate and discuss the issues which are important to deaf people today. Topics included how to take action and make an impact on the decisions made in the UK Parliament. We also talked about what tools we could use to influence debates, decisions and legislation. We spoke about the importance of networking and learning how to build effective relationships with MPs and members of the House of Lords. It was a very productive evening, and I hope to see more Deaf people get involved in politics in the future; this could be on any level – reading the news, having conversations with others, going to talks, or actually running for office – because we need more representation in politics. We need more people talking on our behalf, who would know what we need because they'd also be speaking for themselves as well.
We also celebrated a very special person's birthday.
My nan turned 85, and we held a surprise party for her. She's the matriarch of the family and is an amazing woman. I hope that one day if I'm even half the person she is, I'll be happy with that. Anyhoo, she got absolutely sloshed – I think she had about 10 glasses of Baileys – to the point where I had to try and force her to drink water! Hilarious. It was a lovely day and I'm glad she had a great time.
One conversation went something like this:
Nan : I'm okay. Honestly.
Abi: Yes, but you still need to drink water.
Nan: I don't want anymore to drink, but your sister likes water. Give it to her.
*someone is telling me to stop bothering her*
Abi: But she's drunk.
Nan: I don't want water. I don't like it.
Abi: You need to.. you're getting older. You need to hydrate yourself.
Nan: No, I don't. I will sober up in my own time.
Abi: Hmph.
Another conversation went like this:
*Nan tried to stand up and then sat down*
Nan: I'm drunk. I'm so drunk. I feel like I'm in a movie. It doesn't feel like I'm here. I'm watching you all, but I… I'm not here.
Alright. Settle down, love. I think you've had enough.
Prosecco Picnic at London Bridge. Such a random night out but also an enjoyable one!
June
We headed to Amsterdam for Camilla's 30th, and it was certainly a trip to remember… or forget, depends on how you want to see it. we were stuck on the plane for about 3 hours due to weather conditions or whatever. So, we asked if we could climb into the cockpit, and they let us in! It was such a fun trip, filled with art, food and lots of sight-seeing. The Van Gogh exhibition was an interesting one. So many self-portraits. Vain much? I learnt a lot of interesting facts when I was there. Did you know that it was likely he was involved in a tumultuous relationship with Paul Gaugin, and it's speculated that Gaugin accidentally cut Van Gogh's ear off? I did not know that. Mm… we also went to the Banksy exhibition. I have to say, I've always admired Banksy, but when we saw his work, I was blown away by them and the messages behind it. I think Camilla was especially mesmerised by it. Brunch on the boat was a great experience – sailing down the canals, sipping on our Proseccos – absolutely lush.
What we didn't find so funny was realising that we had been locked out of our Airbnb, and the hosts were uncontactable. So, we booked ourselves into a 4* star hotel instead. Knobs. Overall, a very amusing weekend, indeed.
And as soon as I landed it was off to Dublin to see my girls and their adorable kiddies. I've said it before and I'll say it again several times, they're all brilliant mammies, and their kids are gorgeous. We just chilled out in the sun, caught up with each other and played with the children. Sometimes, the simple weekends are the best. Then… a pub crawl! The hangover the next day was not so pleasurable though. I am getting too old for this kind of shit now.
When Dublin was over, it was back to Budapest I went to again. Budapest. The European Youth Centre. Again. I was chosen with some others to be a trainer for an EUDY and Council of Europe study session on Human Rights which would be held in November, so we had to fly over to Budapest for the weekend to prep for the week. This will mean I'll have been to Budapest 4 times in the space of a year (I went in November for WFD). Keen much? Every time I go to Budapest, it's always very full-on, and I hardly get time to do some sight-seeing, but when I do, it's always breath-taking.
However, I do not appreciate being molested every time I go to the airport. I do not like people touching my feet, and I swear that Hungarian people have a foot fetish. They always like to take their time rubbing and caressing my feet to make sure I don't have anything in my sock. Grow up. I can just simply take my socks off for you. If you continue to caress my feet, I will kick you in the face, and that's me being very polite.
Deaf Academics was an interesting event. We spoke about equality and audism and the effect it has on our progress in academia. There are a lot of hidden obstacles; finding an interpreter that matches your register, booking interpreters, administration support, cancelled bookings, budget restrictions, workplace relationships, language choice, collaboration and so on. However, despite all those obstacles, resiliency seems to be something we all have in common as proven by the number of deaf people we have in academia. It's heartwarming to see so many people succeed, and I hope to see many more do the same. I remember a piece of advice I got from an interview I had with Maartje De Meulder during my Frontrunners time about doing a PhD. She spoke about how important it is to have a support network of peers, regardless of what field you're working in, to support you. They will have faced the same barriers you have and will be able to give you tips on how to navigate your way through it. They will also be able to give you some emotional support.
July
The release of Deaf LGBTIQA website! We felt that there should be more awareness of the Deaf LGBTIQA+ community as well as having something that could provide valuable information in an accessible way, so we created a website so it could be used to educate others and also guide people to the right source of information and support. A lot of hard work went into creating it, and I'm grateful to those who were involved. However, it is all entirely voluntary, which means we're always looking for more people who would be interested to help us run it and be more active! I'm also pleased to say that we're now in phase two, which will be focusing on sexual health and the arts. Whilst I am excited that we have a growing and thriving Deaf film community, I am also saddened to see that the LGBTIQA+ community is rarely featured in it. Don't believe me? I challenge you to find me 5 Deaf films that have leading LGBTIQA+ characters in them. Mind you, I'm talking about the UK. I am aware that other countries do have some representation, but on the whole, it's still not enough. How many LGBTIQA+ people do you have in your life? Now, do you think those numbers reflected in the films or programmes you watch? I can answer that for you. No, they are not. So, this is why I'm excited for stage 2, and I can't wait to see what next year will bring for the Deaf LGBTQIA+ community!
It's summertime, and we all know what that means…. festival season is upon us! Latituuuuuuuuuuuude! For me, it would be an interesting experience because last year, accessibility was a massive issue for us. We weren't able to see the interpreters because of the seating arrangements, unable to book interpreters for shows we wanted, unable to see the interpreters because of technical issues and had issues with some of the staffs' attitude and behaviours. However, after writing a letter to Festival Republic and Attitude is Everything, we had a meeting where we reviewed the handbook on accessibility and revised it. As a result of this, more deaf co-ordinators were brought in to work with the Access team at festivals and this was a huge step forward. So, I was the coordinator at Latitude, and as tiring as it was (especially in the heat) it was also very rewarding to see people enjoy themselves. There are so many things that people take for granted, that could actually make a difference to a deaf festival goer; making sure that they have front row seats to the comedy show so they can see the interpreter, a raised platform so they could see the interpreter perform a song, making sure there's an interpreter for a yoga class or teaching staff how to sign – all of those things can make a person feel included, and yet, it was so hard to get all of those done. Why? Is it ignorance or apathy? I don't know, but we had a great team, great feedback and a great time! Well done!

Time for a little girls holiday and Barcelona was the destination! Sun, sea and shishas aplenty! No trip to Barcelona could be complete without a trip to Ziryab! Apparently, Emlyn reckoned we ordered way too much, even more than our group of friends – hungry men who had come in a few weeks before us – but I told him to not to judge or underestimate us. We finished it all off, and in record time apparently! 😏 Mischa sadly couldn't make it… or so we thought. She surprised us one night and then the group was really complete! The highlight of the trip would probably be hiring a GoCar – although the palaver we went through to get them wasn't pleasurable – it was fun to ride around Barcelona! Lost count of the number of times we lost each other though!
Then it was off to Italy I went to, and this time it was to the Agape International Ultragender Camp, up in the mountains in Prali with Kat and David who would be interpreting for me. But first… Milan. Such a picturesque city. We walked aimlessly around the city and found an OAP dance party. I kid you not, those people know how to dance. We happily watched them for hours and even joined in! They know the meaning of romance. I want to be like them when I'm old, dancing away without a care in the world. Then it was off to Prali we went. It was an experience. The aim of the Ultragender camp was to educate and share experiences with everyone, de-construct gender stereotypes and privilege, create and share new languages and promote best practice for inclusion in our workplaces. The camp was open to people of all religions and identities, which I was wary of at the beginning. Additionally, there were about 60 people there, and I was the only deaf person. For those who know me well will know that I am a fiercely independent person, so for me to have to rely on my interpreters (who were absolutely amazing all week long, by the way. Thank you, Kat and David) nearly all the time made me feel very vulnerable. I cried on the first night because I hated the feeling of having to be reliant on others. However, people were supportive and some went out of their way to make sure that I understood what was happening and felt included. For that, I am very grateful. Thank you.
As for the topics discussed at the camp, some opinions were raised and made for interesting conversations, which made me realise that we need more camps like this. In order for us to gain awareness, to be able to advocate and ensure that inclusivity is at the forefront of our minds at all times, we need to have more conversations. Granted, there may be times when you may not understand something, but that's okay. Some discussions will need time to let it all sink in. What's important is that you accept the fact that it's important to them, so treat the issue with respect. We're all humans, and our differences are what makes life so much more interesting. People should be able to be whoever they want to be without fearing what others will think about them.

August
The infamous BBQ where it took 1 hour to cook the chicken…! This is why you should be a vegetarian…
Ashley is back! #content group is reunited once again… at the BDA Away weekend in Cardiff. All work and lots of play make the #content group fun people to be around with!
September
I decided to take an impromptu trip to Denmark to catch up with my friends, and I'm glad that I did. Coming back to my old home, the land of hygge, made me realise that I need to make more time for myself and people I care about. Time and health are two precious things we don't recognise and appreciate until they have been depleted. So, make the most of what you have around you, with the people you care about. Talk about who and what inspires you, reflect on the good and bad times and how they shaped you and most importantly… appreciate life.
A random siblings night out with Ben, Damaris and Mischa turned out to be a hilarious competitive night at the O2! 3D Mario Go-Karting is definitely something you should try out!
Then it was off to Warsaw for EDSU Board meeting! Our meeting was held at Institute Głuchoniemych, a 201 years old building which is used as a school, college and training centre for Deaf people. The history is amazing. Inside, they have memorials to Deaf people who contributed to the war efforts. In the evening, we hosted a presentation for the youths where we explained what EDSU was about, the benefits of collaboration, accessibility, and then we had a debate which got a little heated! Afterwards, we went out in town, and apparently, deaf people like to drink outside. The police, however, does not like it when they do that. Cue me being angrily told off by a policeman…! The next day, we did some sight-seeing and were blown away by the history of the place.

From one board meeting to another, it was off to Belfast I went to for the BDA board meeting. Firstly, we were invited by Kinghan Church to meet with the Deaf community to celebrate International Week of the Deaf. It was lovely to meet the members, and learn their regional signs for the days of the week! Afterwards, a special commemoration was held at Belfast City Cemetery for Francis Maginn, the man who worked hard to improve living standards for the Deaf community, and one of the co-founders of the British Deaf Association. We also paid our respects to Reverend John Kinghan and Wilhelmina Tredennick, who were instrumental in ensuring that Deaf people had access to sign language and education.
In the evening, we celebrated International Week of the Deaf at Jordanstown School where we watched videos the children had made about influential members of the Deaf community and unveiled 4 benches in their honour. It was lovely to meet new and old faces.
October
Invaded by one of my favourite Finns, Anne! She was working with the Finnish Association of the Deaf, they make programmes on various topics and this year they wanted to have a look at what's going on in Europe; obviously, Brexit is a hot topic at the moment so they decided to come over to find out what our opinions about it were. I definitely enjoyed having Anne and Gavin over!
To watch the programme, visit: Kuurojen Liito
Some more of my favourite Aussies came over to stay with us for a couple of days. It was honestly so lovely to see them and spend time with them. Having Aussies friends around always makes me pine for Australia even more…

Then it was off to Valencia I went, to the First Deaf Women European Forum. It would be split into two parts. 33 delegates from 18 countries were in attendance. The first few days, there would be work sessions with the focus on exchanging experiences, analysing how active deaf women are in terms of participation; at a local and national level, how to incorporate a gender perspective in governance and look at what guidelines had been developed. We were then split up in groups to talk about three topics: gender violence, gender perspective and women health. It was interesting to see that out of all the countries in attendance, only two countries have a domestic abuse service run by deaf people – England and Spain. There are some countries that provide interpreters/mediators or some kind of support, but not a full service. This is something that needs to be looked at, especially when you consider how small the Deaf community can be – safety is paramount. We had a lot of interesting discussions, one was about whether safety or culture comes first? Safety is essential, but so is culture – we need to be immersed in the deaf community in order to feel whole. But when it comes to domestic abuse, do we need to relocate? Do we need to change our circle of friends? Do we need to stop going to the Deaf clubs? How can we ensure that you are able to have both safety and culture? How can we create safe places for people? Food for thought. Statements were created to reinforce the implementation of human rights in governance; presented as the 'Valencia Declaration for fundamental rights, empowerment and elimination of all forms of discrimination against deaf girls and women'. We then went to Valencia Deaf club, where they hosted a pre-Halloween party for us! They created a haunted house, and I'm telling you, it was the best amateur haunted house I have ever seen in my life. It was humongous and absolutely spot on. Luckily, urinary incontinence is not something I have a problem with, otherwise, I would've wet myself several times that evening.
On Saturday, we had the forum. There were so many inspiring women from all kinds of backgrounds talking about so many things. I was honoured to be asked to give a presentation at the conference. I spoke about queer feminism, intersectionality and the importance of LGBTIQ+ education in schools, and why we need more exposure in the arts. It was nerve-wracking but I'm glad I did it. Words cannot describe how proud I was to see so many women go up on the stage and be passionate and proud about what they've been doing. The week was incredible. I met a lot of amazing and inspirational women, who I have no doubt will go on to be very successful, if they aren't already. The people I got to know to that week are amazing individuals. I feel proud and honoured to know them and call them my friends.
Stand Up to Cancer would be broadcasted live, but it would be SEVEN hours of live signing and live simulcast subtitling, with songs and several performances. Luckily, we're pros, and there were no issues at all. Well done to the team! However, I did not appreciate having my friends take several photos of me and my non-manual-features throughout the night. Twats.
November
Agape reunion with my Huguenot twin.
And then… Budapest. Again. EUDY's study session for a week and the theme was 'Encouraging Human Rights Education through media'. 38 youths from all over Europe came to the European Youth Centre to take part, and I was blown away by the insights some of them had, and saddened that we all had a shared experience – audism. I hope that they will use the tools given to them during the week to advocate for their human rights in their own countries, and become human right activists! "There may be times when we are powerless to prevent injustice, but there must never be a time when we fail to protest."
Additionally, I also received some very bad news that week, and I don't think I would've got through the week if it wasn't for my team. Thank you for being so supportive and helpful. LIS.
I had a belated surprise birthday party, and believe me, it was certainly a surprise! Especially the cake! James, even more so. He organised the whole night and came down from Newcastle to surprise me. Thank you darling, and to everyone who came along. You've all been amazing friends. Love you lots.
December
The bad news I mentioned earlier has taken its toll on me, combined with frustration about my access to university and other things has meant it hasn't been an easy month for me so far. It could be easy for me to just sit down, be pessimistic and give up on everything. However, as I look back on what I've accomplished this year, I realise I have done a lot and I've had a lot of fun. It's important to keep sight of the bigger picture. I look back on what I said last year, which was, 'continue to be yourself, work hard, appreciate what you have, treat people the way you would like to be treated, and enjoy life' and I'd say I've done that. Although, I think may have taken the 'work hard' mantra a little too literal. Anyway, what I've learnt this year is that whilst it's good to give, I also need to look after myself. I found this poem, and I can't credit it because I don't know who it was written by, but it struck a chord with me.
'I need you to understand that it is okay to have a soul that is both tender and tired. I need you to understand that it is okay to be gentle with yourself, that it is okay to feel what you are feeling, that it is okay to let it all crack within the weight of your bones. I need you to know that it is okay to not be okay, that it is okay to feel sad even if you do not fully understand it. I need you to know that you do not have to live in one extreme. That you do not have to force yourself to feel perpetual happiness, that you do not have to sit with your damage and make a home out of it. I need you to know that you exist in multitudes. I need you to know that you are the product of what is both hopeful and haunted within you, and it is okay to exist in this world as someone who is simply figuring out how to balance that.'
Which brings me back to my quote I mentioned earlier on this blog, the reason I got the tattoo. We all change. I am not the same person I was at the start of the year, and you know what? I'm okay with that. I decided to see a therapist a few months ago, to deal with the stress of university and other things, and it was actually one of the best decisions I've ever made. Seeing the therapist has helped me to cope with stress, helped me to compartmentalise my worries and fears, and has helped me to devise strategies for coping with certain issues. I'm able to gain perspective on whatever the problem I'm struggling with. It's helping me to see the problem without feeling overwhelmed with anxiety or sadness even though the problem is still there. In that way, therapy can help you analyse the problem you're dealing with in order to make a strategy to help you move forward. That, for me, has been one of the biggest accomplishment this year. It's helped me to establish better emotional wellness in my daily life. Sometimes, it feels like we live in a society where everybody thinks they have to do it alone, but that's not the case. There are people out there for you; you just have to reach out and let them know that you need them. It works both ways as well. If you think someone is in need of help, talk to them. Help can come in many forms, it can be: a hug, a dinner, a text, a silly meme, little presents, etc. Those little things help.
This is where self-care also comes in. Self-care is so important because when you are physically and mentally exhausted, you're less able to deal with stress. Take some time out, get a massage, see your friends, eat healthy meals, exercise more, keep a gratitude journal and get some rest. Because we are more resilient and more able to handle life's stress when we are feeling our best both physically and emotionally. So, that's something I need to work on and that's my aim for next year.
All in all, I would say that this year has been bittersweet – but I've learned so much from it. I met people who taught me about life, hurt and healing. I visited places where I watched the sunrise by the river and set behind torn buildings. I found love in several new ways – in the form of friendships and colleagues. I shed parts of myself and gained new parts; parts that were wiser, kinder, softer and bolder. I found happiness in my own arms and in the arms of people who have settled inside my soul. Friendship. The kind that leaves you smiling at the memory of easy experiences, how it feels to be around with them and the laughter you share. I've also experienced loss, which meant losing a part of me as well. I have spent days smiling from cheek to cheek, but I also have cried and cried until my heart couldn't take it anymore. I've learned that there will be times where I will find myself in situations that I'm unable to take control of, and I have to learn how to let that go. However… what I can do, is make the most of it. I have healed and taken steps forward, but I also have stopped and stumbled and fell (metaphorically, not literally… although that wouldn't come as a surprise, knowing my lack of spatial awareness). I received more love that kept me going, and it's the people I have around me that keeps me lifted up. Life isn't always smooth sailing; it's a sea of ups and downs. But it's all about how we weather the storm and the life lessons we learn from it. So, don't be afraid to set sail.
"I have been told sometimes the most healing thing we can do is to remind ourselves over and over and over other people feel this too." – Andrea Gibson.
This year has been bittersweet, where I have loved and gained more than I could imagine, but I also learned, experienced, and forgave.
I leave you with this quote.
"All happiness depends on courage and work."
― Honoré de Balzac